1979 Porsche 924 (model 331)
9249209291
What have we done to our 924? Well, so far the "modifications" are quite minor really. We have only added an MSD Blaster 2 ignition coil, and we've removed the air-conditioning system. Other than that, the car needed nothing other than the normal minor stuff that always pops up (gas, oil, filters, etc).
If you want good advice on technical issues that may pop up with owning a 924 or 944, there are two wonderful resources out there:
The Founders Region Porsche Talk BBS.
The Pelican Parts BBS.
Some of the neat stuff you'll see on this site will help you to maintain, shop for parts, and keep your 924 running ahead of the pack. We have several things that should help new owners, and help existing 924 owners.Check out our 924 tech FAQs. They are invaluable for new 924 owners.
How to keep your Porsche 924 running cool.
What parts do I need to tighten up the shifter in my 1979 924?
Are you thinking of buying a 924? We did 18 months of research before we bought ours. You should not have to do that much, all you need to do is look at the list we compiled before we bought ours. Click this link to get our 924 "buyers guide". Are you having trouble finding parts for your 924? Well, we only buy the best parts that money can afford. That doesn't mean that we pay a lot for parts either. Check out our list of businesses that we get parts from. We believe that they are among the best places on the web for Porsche parts.
Don't forget to SAVE THE FLASH!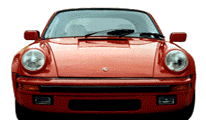 Why a 924? Well, the car was not our first choice (we have a soft spot for the Porsche 906/Carrera 6 to tell you the truth, and a street-legal 962C was very tempting), but we thoroughly believe it was the best choice. Check out our tips and you'll see that 924s really are an excellent car for your hard-earned money.
If you like Porsches, hop on over to any of these sites:
Check out the Porsche 924 home....
Join in the fun by becoming a member of the Finger Lakes region of the Porsche Club of America.
Or go straight to the source and see the Porsche home page.